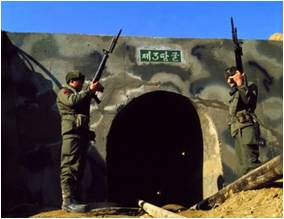 Tour Price
: USD 46
Tour Time
: 08:00 ~ 14:30(Except Mondays, National holidays)
Number of person
: Min. 1pax
Included
: Tour guide, Entrance fee, Vehicle
Itinerary
: Hotel - Imjingak Park - Freedom Bridge - The 3rd infiltration Tunnel - DMZ Theater / Exhibition Hall - Dora observatory - Dorasan Station - Unification Village Pass by - Amethyst factory or Ginseng Center - Drop off Itaewon or City Hall
※ You must carry your passport on tour day.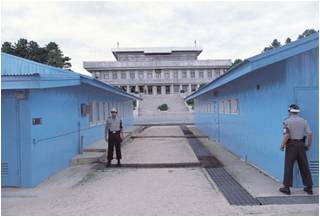 Tour Price
: USD 124
Tour Time
: 09:00 ~ 17:00(Tue ~ Fri, Except National holidays)
Number of person
: Min. 1pax
Included
: Tour guide, Entrance fee, Vehicle
Itinerary
: Hotel - Unification Observatory or Imjingak Park - Lunch - ID Check point - Camp Bonifas (Slide show and Briefing) - JSA Tour (Freedom House, Conference room, Bridge of No Return) - Drop off at Lotte Hotel
※ You must carry your passport on tour day.
Regulation
- When you arrive at Conference room, do not touch any equipment such as microphones or flags belonging to the communist side.
- Do not speak with, make any gesture toward or in any way, approach or respond to personnel from the other side.
- Sometimes military or other official considerations prevent entry into the joint security area.
- Casual clothes such as ripped jeans, sleeveless shirts, mini skirt, short pants, military cloth, and sandal(slippers) are not permitted in the tour area
- Shaggy or unkempt hair is not allowed either.
- The cameras with over 90mm zooming lens are not allowed.
- Children under 11 years are not allowed.
- Tour time is flexible according to local circumstances.
- While on tour if any program cancelled according to unexpected local situation, no refund will be provided.

TOUR CONDITONS
- 3stars accommodations
- Transportation inclusive toll and parking fee
- English speaking guide
- All sightseeing and entrance fee
- All Breakfast at hotel
- Visit a shopping center(Ginseng or Amethyst)

Cancellation Policy
☞ Cancellation charge will be automatically applied like below.
15 ~ 8 days : 30%
7 ~ 3 days : 50%
2days : 100%

REMARK
- In case of the heavy traffic, pick up service can be delayed.
- Some half-day tours finish at Itaewon or Myeongdong.
- Range of Responsibility : We disclaim all theresponsibilities for accident or lost due to your carelessness.
- We reserve the right to change the schedule and omit any part of activities due to unexpected matter.
- We reserve the right to change the tour prices with or without notice due to increasing airfares and transportation costs as well as exchange rate fluctuation.
- Gyeongbokgung Palace is closed on Tuesday and will be replaced by other tourist attranction.
- During tour with guide, tourist cant act personally without any permission.